About Us
Since 1978, the veterinarians and health care teams at Wright City and Warrenton Veterinary Clinics have strongly believed that treating your pet requires an approach that combines compassion and expertise. It means that we take the care of your pet seriously. We want your pet to be healthy, and we also want your time together to be long and happy.
When you and your pet arrive at either one of our clinics, you'll be greeted by a staff that is warm, welcoming and always pleased to see you. After talking to our staff you'll also find that we're well-versed in the advanced techniques of internal medicine, wellness care, dentistry, anesthesia, surgery and many aspects of veterinary medicine.
Part of the process of providing quality care is promoting client education and responsible pet ownership. We believe that caring for your pet is a partnership – a full partnership – between us and you. We work closely to understand your pet's unique health needs and to develop a preventive care plan that best meets those needs.
We encourage you to ask any and all questions about the health of your pet, and we are happy to answer them.
The time when you need a trusted veterinarian the most is when your pet is facing a serious illness or injury that may require surgery. Our internal medicine and surgical expertise, as well as our advanced diagnostics and veterinary laboratory, ensures your pet receives a quick and accurate diagnosis.
We thoroughly discuss any diagnosis, as well as the various options of treatment, with you before we continue with any procedure we may recommend.
Dr. William Tappmeyer opened Wright City Veterinary Clinic in March of 1978 and was joined a year later by Dr. Jim Schmittel. Dr. Mike Thompson joined the practice in 1981 when we opened the Warrenton location. Then Dr. Frank Lenzenhuber joined us in 1984. In 2006, we built a new facility in Warrenton and Dr. Jill Jacobsmeyer started in 2007. Dr. Nolan Butcher joined us in 2012, followed by Dr. Daniel Tappmeyer in 2013.
Please take a look around our website. Many of the services that we provide are listed here along with bios of our doctors and administrative staff.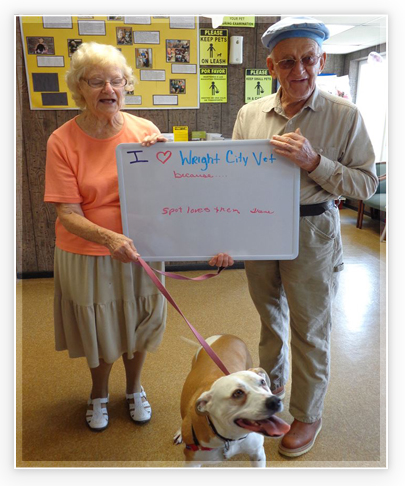 Where we are located:
Wright City Veterinary Clinic
111 Veterans Memorial Pkwy.
Wright City, MO 63390
(636) 745-3377
Warrenton Veterinary Clinic
717 E Booneslick Rd.
Warrenton, MO 63383
(636) 456-4146
Hours of Operation
Monday – Friday: 8 a.m. – 5:30 p.m.
Saturday 8 a.m. – Noon
Closed Sundays
Payment is due when services are rendered.